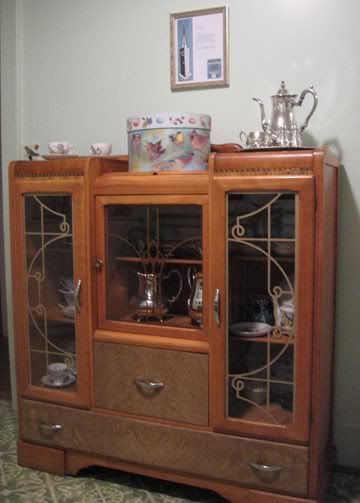 So on Saturday I did not do any writing, because Mighty Reader and I were driving a rented SUV to an antique shop out of town to fetch the 1940's-era china cabinet shown here. We managed to load it into a Honda Element despite the protestations of the antique shop's owner, who claimed it would be impossible. Those side doors on the Element? Brilliant idea. Anyway, here it is in our kitchen, loaded for bear. The picture frame above the cabinet contains a letter from Stuart McLean of CBC Radio's "The Vinyl Cafe," in which Stuart explains why he didn't make it to our house warming party in August. At least he sent the note.
Speaking of notes, while I didn't write any actual prose on Saturday, I did get out of bed at one point on Saturday night and, after rushing into the Designated Writing Room, made some notes about Chapter 13 and they were good notes so I'm pleased.
Sunday was also a no-writing day, though I had an epiphany about the climax of the book and have gained a new way of thinking about dramatic arcs and character development, so that's good.
Today at lunch I pulled out the notebook and the notes I made on Saturday night and managed to scribble out about 500 more words of Chapter 13. I'm not exactly sure, from paragraph-to-paragraph, what I'm doing in this chapter but so far it's following my large-scale structural intentions, so I'm calling it good at this point. I've got about 2500 more words to write for this chapter, I think, but I'm pretty sure those words won't fight back much, and after this chapter, the rest of the Second Act should be easier to get down on paper and my plan to have the first draft done by springtime ought to hold. Unless, of course, when I hear back from my agent he'll request more time-consuming and extensive revisions to the MS of "So Honest A Man." We shall see.