This graph tracks my progress on "Cocke & Bull" by showing the total word count as time passes. I am pretty pleased that there has been steady progress on the book. I recall that there was a fairly long lag time after about 20K words on my previous first draft when I was trying to figure out what to do with the story I'd begun once it had got underway. This time, behold the power of outlining:
Again, I'm not sure if there is anything to be learned from this chart, but things like this fascinate me. And, of course, posts with charts are more convenient for Big D to read at work, because he can almost pretend that he's looking at a science blog. What
will
, I think, be interesting will be a comparison of chapter lengths before-and-after revisions. Stay tuned for that one in a few months.
Edit to add:
I have found the similar chart from my last book: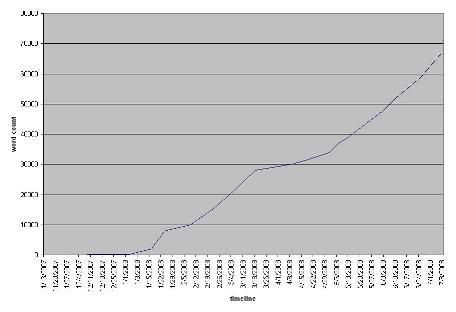 You can see where I started the project and then ignored it for some time (this is the only version of the chart I have, so the axis labels are illegible; sorry), and also where there was a lot of stalling in the middle of the book. So, huh.