This weekend Mighty Reader and I built a new grape arbor in our back yard out of copper pipe, braided steel wire and steel fittings. Mighty Reader and I like that the new arbor gives the yard an airy, open feel (the old arbor was made of 4" x 4"s and 2" x 4"s and was more like a split-rail fence than an arbor, ta awfully). Mostly, though, I like all the metal hardware in the yard. It appeals to my inner architect and builder.
braided cable! copper pipe!
eyebolts! cable clamps!
cocktails! These are "Blue Arnauds," which contain 1 1/2 shots of gin, 1/2 shot of blue curacoa, and 1/2 shot of vermouth. Garnished with raspberry. Very pretty and tasty!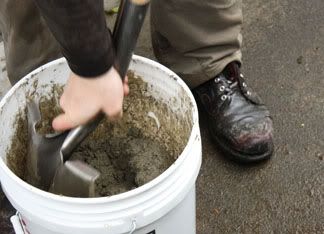 mixing concrete!
The arbor is essentially invisible, but that's fine. The grapevine is kind of scary without leaves, though. A bit haunted house if you ask me. Still, it will be cool once the grape has leafed out.