On Thursday, Mighty Reader and I dashed down to Portland, Oregon for the night. One thing we did while in Portland was go to a reading at Powell's Books (Jennie P. Grant read from her
City Goats
and also provided a dandy slide show). Another thing we did was visit three dwarf Nigerian goats, who were all very sweet. One other thing we did was get me a new author photo taken:
This was our late-afternoon lunch at
Kenny & Zukes, one block from Powell's. The happy hour burgers and fries were excellent. The beer was pretty good, too. I highly recommend Kenny & Zukes. When I have my reading at Powell's, we'll go back for more pints and nosh. Portland is a fine walkable town with many fine bridges. I now possess a t-shirt covered with profiles of a lot of Portland bridges. The bus lines served us handily when we were too tired to walk. My only regret is that Rimsky Korsakoffee wasn't open when we dropped by.
These, by the way, are the three goats: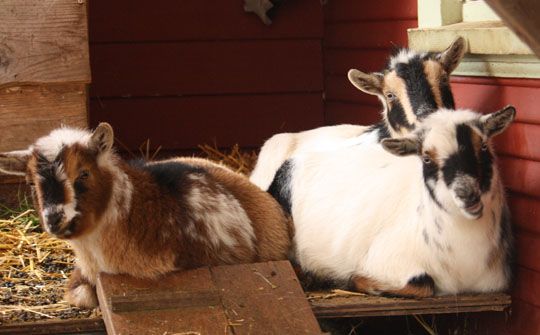 photo credit: Mighty Reader